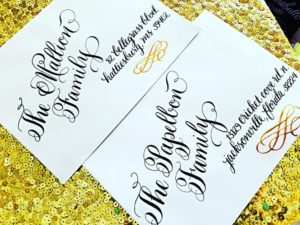 Are you in process of planning your wedding and think you may want to hire a Wedding Calligrapher?  If so, we can help with a few simple tips and suggestions to follow that will help guide you in your decision!!  With just a few key factors to take into consideration, you'll be ready to hire a calligrapher in no time.
First and foremost with any vendor you must love their work!!  Falling in love with a vendors portfolio is obviously one of the most important things for a couple.  The vendors style of work must tailor to your tastes, wants and needs.  So for example if you love more elaborate and flourished calligraphy then hiring a Wedding Calligrapher that offers this type of style will be mandatory.  Make sure to do your homework too!  Looking over a calligraphers portfolio is important not only on their website but other accounts as well.  Be sure to check their social media accounts: Facebook, Instagram, Pinterest, Twitter, etc.  Make sure the work you see in all areas remains consistent.  Perhaps you may even follow some of their accounts for a while to see if they continue to showcase things you love.
Secondly, it is crucial you do some investigating and read their online reviews!  Keep a tab on this for a while and watch what other engaged couples have to say about the vendor.  If most of the reviews remain consistent, and customers seem happy with their product, then you are likely safe to hire that calligrapher!!  It is important to understand that every person will form their own opinion about a vendor but  the key components to look at when sorting through reviews are things such as:
1. Did the wedding calligrapher deliver the product on time
2. Did the work match up to the work they showcased on their website
3. Was the calligrapher responsive to the customers emails in a timely fashion
4. Was the wedding calligrapher friendly and willing to accommodate the customer on their specific wants and needs.
You may also even consider asking for reviews to go a step further. Most all vendors should have at least ten references they can lend to you.  Watch to make sure the reviews come from valid sources.  For example, a calligrapher should be able to give you several positive reviews from wedding planner, stationery/invitation designers, or other wedding industry peers they have done work with!  Think of it this way, if a wedding planner didn't like the calligrapher they obviously wouldn't hire them to do work for their client since that would be a reflection on them!  They are going to want to hire the best wedding calligrapher for their client since their goal is to make them happy!
Once you are ready to hire a wedding calligrapher make sure to read over their contract and policies.  Make sure you understand all the costs involved in the work you are receiving from them. Also, if you are hiring an out of state calligrapher it is important you understand their shipping guidelines as well.  Another important thing to understand and take note of are instances on how a calligrapher handles errors, additions, etc.  Make a list of questions you have for your wedding calligrapher before signing a contract.  Also please make sure you carefully read all the fine print and details before signing any contract.
Finally, I even suggest getting a sample from the calligrapher. This always reassures clients when they can see something physical!
Good luck on your journey of hiring a professional wedding calligrapher.  If you have any questions please feel free to
contact us
.  We would love to be your go to calligrapher!!